Welcome to Gateway Peace Garden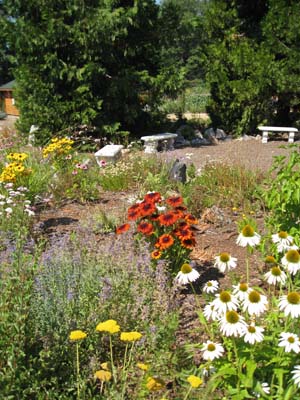 The Gateway Peace Garden began with a sincere prayer to fulfill a higher purpose with our lives. The manifestation of this prayer guided us to Mount Shasta and to the property that became the Peace Garden. Still not knowing what that purpose was, we set out to plant some flowers on the land. A simple Shasta Daisy plant inspired us to place it near a grove of cedar trees, where the vision of the Mother Mary Meditation Garden unfolded. It became very clear that the land would be consecrated and dedicated to Peace. In August of 2002, the Gateway Peace Garden was initiated with the planting of the Mother Mary Meditation Garden.
Inspired by the natural landscape of cedars, oaks, and manzanita along with the majestic views of Mount Shasta and the surrounding mountains, the journey continued with the co-creation of other meditation niches, the labyrinth, and the Peace Pole. The Gateway Peace Garden continues to unfold with the purpose of Peace and the guidance of Nature.