Visiting the Garden
The Gateway Peace Garden is open for quiet visitation and meditation everyday from sunrise to sunset. The Garden is located at 834 Ski Village Drive in Mount Shasta, California, along the principal road that connects the Sacred Mountain of Mount Shasta to the town of the same name. The entry trail begins at the Peace Dove address sign at 834 Ski Village Drive. Shady parking is available under the large oak tree at the trailhead.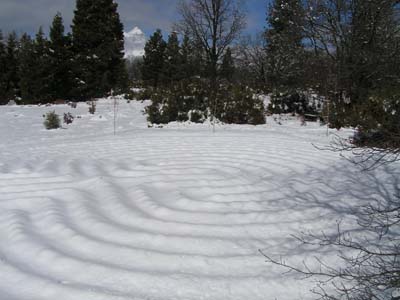 Mount Shasta has a highly seasonal climate ranging from balmy summer days with temperatures in the high 90's, to severe winter storms producing five or more feet of snow at a time. Spring wildflowers and intense Fall colors are abundant here. Often snowfalls of several feet or more will completely bury the Garden in Winter. At these times the Garden is completely inaccessible due to the depth of the snow. The Garden is considered closed at these times when the trails are no longer visible. During mild winters, the Garden can be visited year round.
Visitors traveling long distances are recommended to contact the Mount Shasta Visitors Bureau at www.mtshastachamber.com. Fairly accurate weather forecasts can be obtained from www.noaa.gov, search Mount Shasta, zip code 96067.